….. to let you all know that I'm dealing with your ordes as fast as I can – I'm very aware that many of my Ds are destined to be Chrissie presents.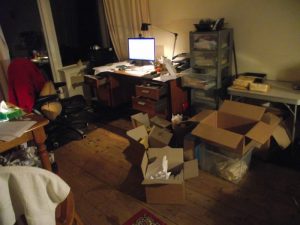 This is a pic of the present state of my office. It's normally a lot tidier, but I'm so busy…!
Anyhoo, I'm down to the last 50 or so orders and I hope to get them all out tomorrow.
There will be postal strikes next week, but as the strikers are all Crown Post Office employees, and posties and sorting office staff are still working, I'm not expecting them to interfere much with the Diary deliveries. However, I'll still try to post out as many as I can before the end of the week.